Digital Marketing For Educational Institutes
Digital marketing in the education sector is becoming a promising technology due to the growing use of digital media. The sector is entirely revolutionized since the majority of the students (users) use the internet. This has an explicit implication on the basis that institutions need to take advantage of the internet to create brand awareness. They are also adopting the changing dynamics of the community and are pacing ways to attract, reach, interact, and enlighten students. Undoubtedly, digital marketing is an extraordinary way to reach out to prospective students.
Digital marketing is a way to make things easier and simpler. It implies that multiple digital channels can be used for business promotion to target the right audience. Besides, digital channels are not limited to emails, social networking, or mobile marketing.
There are several reasons that make digital marketing a leading means of reaching out modern student population. Some of these are:
Prospective students are already searching for educational programs online. Comparatively, students spend much more time on the internet rather on other media platforms.
Internet display Ads are highly effective and outperform traditional advertising.
Parents authenticate educational institutes on the basis of their online presence to choose wisely. Similarly, students shortlist institutes on the basis of its online popularity.
The internet is the most preferred mode of the channel for admission registration.

Expatriates and other students rely on the web for course information, reviews, and admission.
Digital Marketing to Attract Students
As discussed earlier, digital marketing is becoming increasingly popular due to the increase in web and mobile popularity. The sector has transformed entirely and in particular due to widespread access. Therefore, the sector should promote their online presence to reach a large number of parents and students at ease.
Here are some reasons why you should consider digital marketing for your educational institution:
1. Affordable
Modern age digital marketing is a premier medium to attract a broader audience at little or no cost. You can hire a digital marketing agency in India to gain professional service in a smaller investment. You can also avail a range of services like keyword analysis, search engine optimization, social media marketing, email marketing, lead generation, and mobile marketing. It implies that educational institutes can focus on a more significant audience at a lower cost to add marketing campaign value.

2. Build Brand Awareness
Building brand awareness is an unparalleled technique for institutes to promote business. The ideal way to internet marketing is through optimizing content via multiple social media platforms. This can improve followers and conversion rate as they comprise a greater section of the audience. Therefore, a solid brand strategy helps you directly impact your business bottom line sales.
3. Facilitates Performance Tracking
There are different digital marketing tools available to help track down campaign performance. The performance tracking capabilities enable marketers to track and improve campaign efficiency, besides, enhance the effectiveness of business operations. Online marketing in the education sector promotes to redirect the focus of the strategy, so that can help optimize the marketing mix.
4. High Conversion Rate
A business conversion rate is the percentage of visitors to your website that complete a desired goal out of the total visitors. Educational institutions can enjoy the benefit of a high conversion rate. Although messaging platforms like e-mails and SMS are some of the greatest forms of digital marketing techniques to receive a high response rate. Because they are personal and educational institutes can easy reach audience pain points.
5. Enhance Digital Presence
Building a quality digital presence is imperative for any sector, and the education sector is no exception. With the majority of parents finding information online, helping them to reach you through digital strategy. In addition, strong digital presence ensures that parents and students can discover you on multiple channels. In order to consider your institution while making their choice.
6. Promote Your Content
Amplifying inbound marketing efforts through search and display Ads helps institutions to build an online presence. Educational institutes can boost lead generation by investing to yield more results through Ad campaigns. Moreover, it draws a large segment of the online audience to your site. Also, using relevant keywords will result in an increase in site impressions.
7. Manage Online Reputation
Online reputation management is a way to influence the targeted audience. Nowadays, managing your online reputation is a must. Educational institutes can promote quality blogs, capture videos, publish testimonials etc. As a result, it will allow you to develop positive reviews to seek the attention of the audience thus leading to quality online reputation.
Thus, for education institutions to succeed in the competitive market, must utilize and implement an aggressive online marketing strategy. The online marketing strategies for educational institutions should be ideated for attaining high levels of student enrollment, building a strong reputation, attaining higher conversion rate, and improve cost-effectiveness. The time has come for all institutions to carefully plan their marketing strategy online that amplify its brand identity and presence. Hoover, one of the most effective ways to do so is by enlisting the services for an online digital marketing agency to help facilitate this shift into new-age digital transformation.
Importance of Digital Marketing in Education
How often do you come across when you see that a brand is using old-school marketing strategy? We guess not as frequent as it used to be. Ever since the advent of digital marketing, offline or traditional marketing has taken a back seat. Therefore, digital marketing is the best possible solutions to promote your business in the modern world.
The internet world has experienced a paradigms shift during recent times. Considerably, anything is available we want online. Especially, when it comes to the younger generation, this is very true. As the younger generation is completely hooked with the internet world and spend most of their active time using social media platforms. Therefore, connecting with the audience at the platform is surely pay off.
Unlike traditional marketing methods, the audience doesn't consider digital marketing as a sales pitch. This wider the scope of educational institutes to attract the audience in a short span of time. Today, it's impossible to keep the audience engaged when people have an attention span which lasts less than 7 seconds. Hence, you need to have than an informative and engaging digital marketing campaign.
Any institute can expand its reach with easy digital marketing techniques and strategies. Educational institutes can approach students to remote locations and places they can't reach physically. This will help you to get inquiries from significant geographical locations.
Often, institutions spend a huge amount on their marketing activities to engage students towards them and never able to measure the ROI. With digital marketing technology, institutes can decide the metrics of their spending and determining the ROI on the same. Once they know what's working for them, institutes can focus on branding effective strategies. Although, these strategies will truly help in generating dividends to amplify results.
Authority is a power to influence, opinion, or behaviour. With the use of digital platforms, educational institutions can establish a brand authority in their domain. When a brand establishes an authority, they don't have to go out to pitch their sales. As people themselves reach the brand in search for quality service. For instance, over an extended period, the Institute of Financial Market Courses has established themselves as the prestigious institute for financial market education and didn't have to pitch themselves anymore to students.
Customer journey mapping is an ordinary useful activity for many brands to understand and improve users customer experience. The procedure for generating and converting leads is very troublesome. However, streamlining the customer journey helps to simplify this process. The same model works for educational institutes when mapping the inquiry of the person seeking admission converts into a student. If an institute can map this journey, as a result, can correctly identify the gap between the strategy. Thus, can improvise into a corrective action plan.
While we have mentioned quite a few ways on how digital marketing can help educational institutions to advertise themselves competitively. Here is a recent case study about how the awarded financial marketing educational institutions opted for a digital platform for brand building and as a result increase in a number of admissions.
Case Study: Institute of Financial Market Courses (IFMC)
IFMC cuts the cost per acquisition by 70% with online and social media marketing.
The Institute of Financial Market Courses experienced remarkable results from a new digital and social media marketing strategy. A series of innovative campaigns managed by Search Markup- Digital Marketing Company has helped IFMC team to analyse website issues with SEO audit, promote brand through content marketing, reduce cost per acquisition from Google AdWords, boost lead generation through PPC, gain social media followers, generate leads through optimize landing page, reduce load page time, and more within three months. Learn more about more IFMC stock market courses institute in India.
The Challenge: Combating Challenges of a Competitive Market
The IFMC is a world-class provider of classroom and online stock market courses. It's an executive education division helps graduates and professionals from all industries to develop their skills via a range of 14 open programmes and also designs custom programs that address specific needs for students.

Advertising for financial market education is extremely competitive. Exploring and targeting the right audience via traditional marketing methods can be both complex and expensive. So, the IFMC team decided to take a deep look at the potential of digital marketing and social media marketing. The primary objective for the company was to generate traffic to the site, bring potential leads.
IFMC had an outdated website and lack of communication network. They were in need of an educational institute digital marketing plan to improve their online brand presence. Search Markup developed a plan with a clear definition of the challenge. The initial session was centred around the process of building and engaging the audience online and converting them into leads.
The Strategy: Focused on the multiple factors
Build

: They wanted to build a responsive website for students and professional. The plan was executive via discovering the issues in the site and making it search engine friendly.

Reach

: Ensure that maximum number of people know about the

stock market courses for beginners

and

stock marketing course for professionals

around the world.

Engagement

: Search Markup used social media, SMS marketing, email marketing, and website updates to promote engagement between the audience.

Conversion

: Examine each stage of customer study to optimize sales funnel through delivering content, social engagement, relevant news, blogs, case studies, event news, press release, and customer reviews. In addition to reinforcing customer decisions for lead generation.

Measuring

:

Search Markup

kept track of metrics throughout the campaign to ensure cost-effectiveness.

For instance, metrics for PPC might include conversion rates, click through rates, and share/forward rates.

Education

: Teaching audience how to contribute to the university was a major part of this process.
The Implementation: Action Plan
The first action plan was to do an in-depth analysis of the website current performance, challenges, define keywords, analysis competitors landscape, and more. The site had an immediate need for optimization, quality content, right keyword targets, conversion-friendly landing pages & a planned marketing strategy. In addition to content restructuring, appending, and editing, we created themed quality backlinks to support search engines for organic traffic. The strategy helped them to become the best stock market institute in Delhi.
The Result: Traffic Improved by 400%
By integrated marketing efforts, continual analysis & smart budget allocation among them, the ROI increased drastically. Amazing improvement statistics were recorded in the last 12 months of a digital marketing campaign:
Total traffic went up drastically by 400% with 82,064 page-views showcasing the improved user experience.

A site started ranking on top search results on Google & Yahoo, organic traffic started pouring in. Organic non paid traffic improved & leads by an amazing figure.

Social media campaigns also performed very well driving more traffic via social referrals & more leads.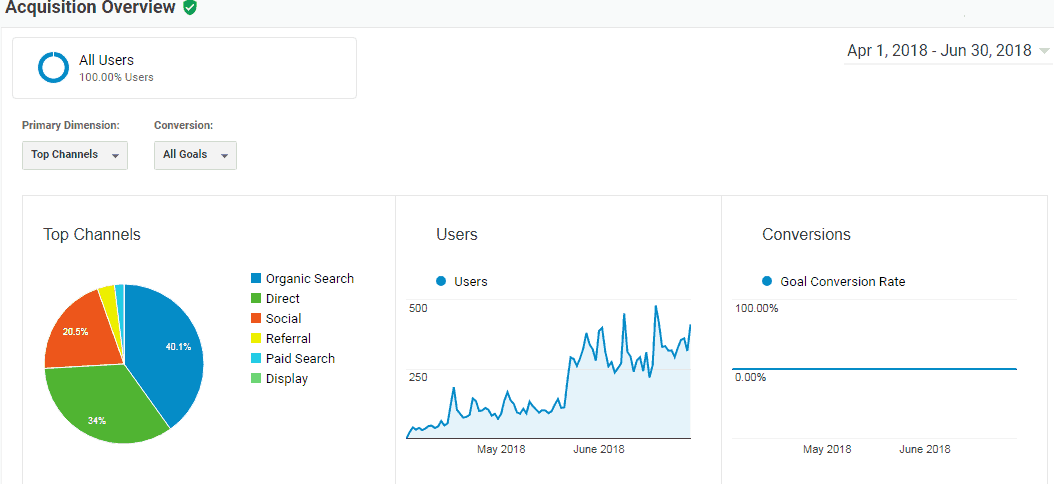 Conclusion
For any educational institutions, digital marketing is the path to success. We are not saying to completely avoid traditional marketing while online marketing is equally important to build an online reputation. However, offline reputation is the foundation of online actions. A well planned digital marketing strategy is a must for educational institutes to reap the above benefits. This will result in an increase in student enrolment, build and maintain a strong reputation, higher return rate, and a higher conversion rate. Thus, follow these simple digital marketing strategies for educational institutes to stay ahead of the competition.

Further, if you wish to understand better on how digital marketing can help your institute increase its reach to a wider audience, you can reach us.