4 Legitimate Ways to Make Money Online Through Google AdSense For Starters
[wp_ad_camp_1]
Have you ever wondered how to make money through advertising? Do you know there are several ways to earn money from Google AdSense free? If you want to maximize your Ad profits, make sure you look into following ways to make money with AdSense.
About Google AdSense
What is Google AdSense? Google AdSense is a revenue-sharing opportunity for small, medium, and large business. It's a free advertising program run by Google. The Google AdSense allows website owners to display text, image, video, and media on their websites. The objective to display ads in the hope that visitors will click on them, wherefore, to make money.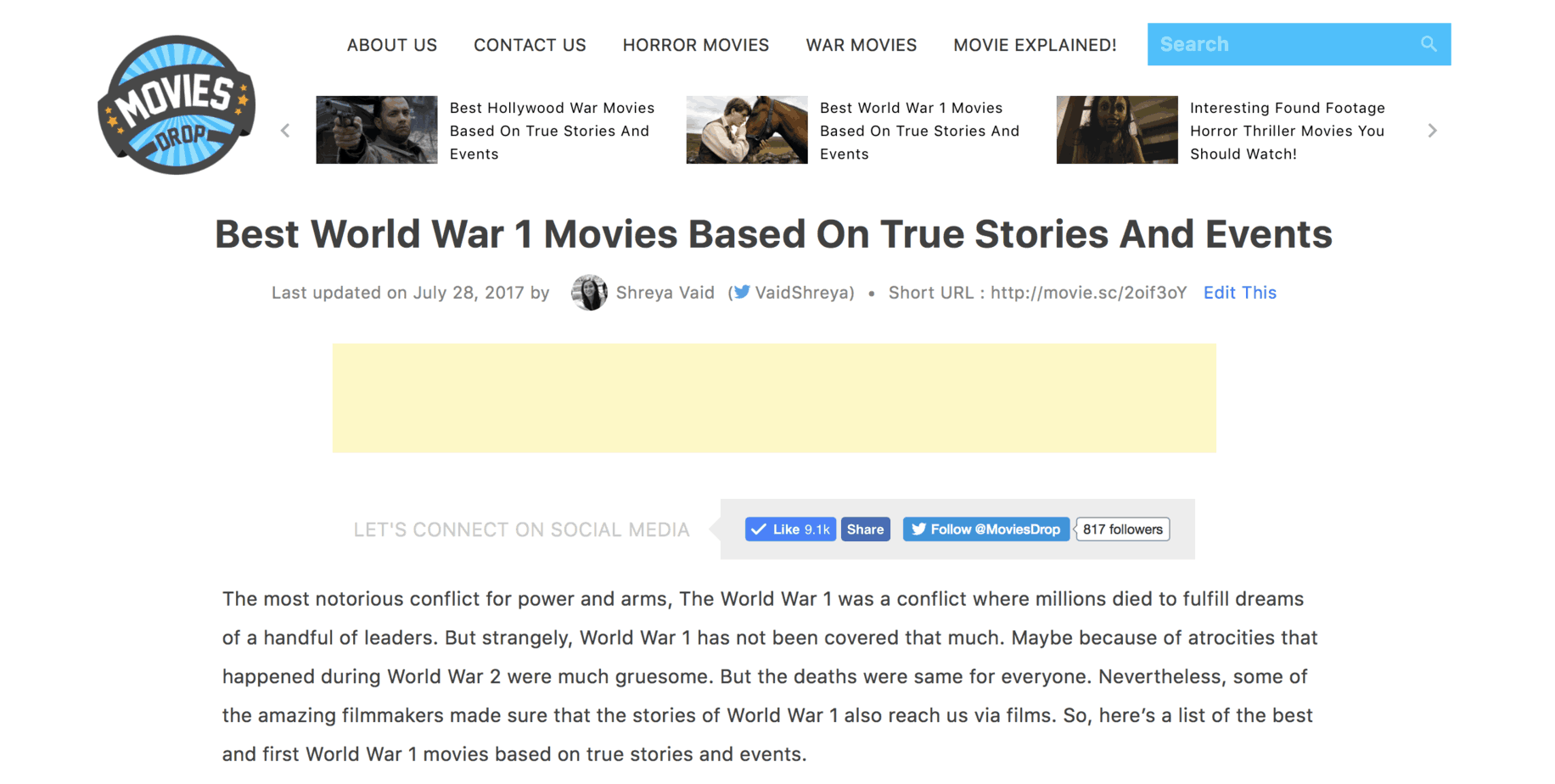 Google AdSense is a valuable tool for both Google and publishers. Therefore, Google enjoys favoritism among the ad publishers. As it comes with many features that you cannot refuse. Here are some more AdSense features:
Higher control

Better Ad coverage

Performance tool that allows publishers to monitor efficiency.

Easy to understand reports
Some Amazing Statistics of Google AdSense
Total

Google earning

is

$32.2 Billion

(

WordStream

, 2018) in advertising revenue that is 97% of Google's total revenue.
There are

2,842,049 sites

using AdSense (

SimilarTech

, 2018) and

2,090,722 unique domains

.
People and Society

is the top website category with

14.03%

(

SimilarTech

, 2018) whereas

Arts and Entertainment

is in 2nd position with

10.37%

.
Businesses make an average of $2 in revenue for every $1 spent on Google Ads.
In Google Ads, the average click-through-rate (CTR) is 3.17%

for the search network (

WordStream

, 2018) across every industry.

Average cost per click (CPC) is $2.69

(

WordStream

, 2018) on all the search network across all industries.
Let's dive into the core part of this article.
Types of Websites for Google AdSense
[wp_ad_camp_1]
Certain types of websites perform better when it comes to AdSense revenue. The two things to take into consideration to make money is great content and high traffic. When it comes to great content, it can be divided into two. A content that attracts new visitors and there is a content that brings back visitors.
Let's take a look at which type of website can earn more:
# 1 Blogs
What is a blog? A blog is just like a personal diary. In other words, a blog is a discussion website published on the internet. They are known for having consistent and unique content. In fact, several blog post publishes new content daily or even hourly. Although, a blog focus on a particular topic, such as web design, mobile technology, sports, health, etc.
This is an attractive way to make money from advertisers. Because popular blogs that are SEO optimized generate a lot of daily traffic. Displaying ads on such blogs means more money.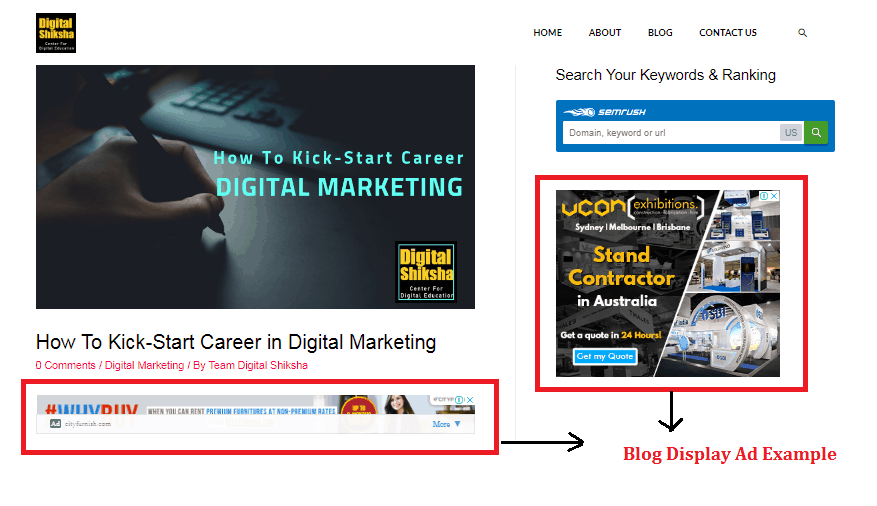 You might consider displaying ads on the top of your blog for most revenue possible. Some of the other places are:
Within blog content

Below blog content

Above blog subheading

Under navigation menuWhite space area of your website
Here is a sample from Digital Shiksha Blog to set the right example of display ads.
#2 Forum Sites
A forum is a great way to mass content sharing. An Online forum is a discussion site where people can hold a conversation. This conversation can be in the form of post or messages. For some, writing blogs and attracting loyal readers is not the way. While many find that forum is a great way to allows visitors to speak their mind. Thereby, another way to generate AdSense revenue.
How to earn from a forum with Google AdSense? The answer is simple! First, drive traffic on your site. Secondly, let people talk together on a variety of topics. Lastly, let them view and click on ads. For example, take a look at "Wikihow". It is the most popular global online discussion forum.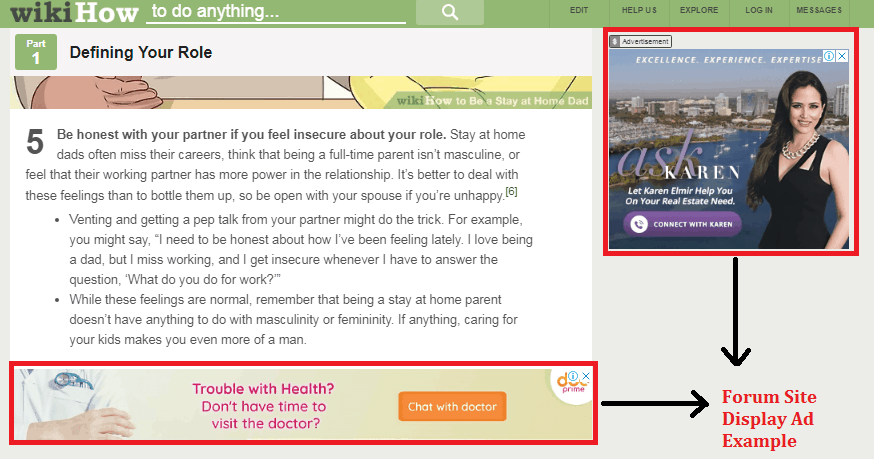 This simple online forum is dedicated to connecting users on sub-niche. Thus uses AdSense on the right side of the discussion and above the content. There are also some ads which can be seen displayed under the forum section.
Similarly, Reddit is home to thousands of communities and authentic human connection. With an average session, the duration is 4.38 minutes (WordStream, 2018). Although, users spend more time on Reddit than any other social networking sites – Instagram (3.05 minutes), Twitter (2.76 minutes), FaceBook (4.81 minutes), and Snapchat (1.79 minutes).
# 3 Niche Social Networks
Niche social sites are small networking sites. While they serve only those who want to be there. Today's internet users spend one-third of their time on social media. You can take benefit of this channel to earn money. Besides, social media captures 33% of the time users spend online (WordStream, 2018).

Social media has become a need for many. It's no longer a fad now. Let's take a look at popular niche social media site on the internet, for example.

HellBound is a social media platform, connecting users from a different background. It's a hub for internet marketing. You can talk about Blogging, SEO, Social media, Affiliations, and more. The site uses Google AdSense in the end, above the footer. Thus, engaging visitors from multiple backgrounds. The site uses Google AdSense in the end, above the footer.
# 4 Free Online Tool Sites
Have you ever thought website traffic volume like Free Online Tool Sites might see? If not, you better trust if the tool you offer is valuable. As long as there are a lot of people who search for free online tools daily. And, these sites earn easy money by displaying relevant ads.

For Example, Lunapic is a free online tool that allows users to edit photos. Since this tool is free, they use Google AdSense to earn https://sdarcwellness.com/buy-premarin-online/ some money. You can notice how they utilize header to display Ads. Additionally, they've productively utilized right sidebar to display ads. Because this is an effective approach to attract visitors to click on Ads.
[wp_ad_camp_1]
Top Tips To Make Money With Google Adsense
There you have it… the top 4 types of websites that earn most with Google AdSense. Nonetheless, you're not limited to these four types of sites. You can also choose other options like Mobile Application, E-Commerce Sites, Dictionary Sites, Videos (YouTube) etc. They are the easiest ones to optimize and promote. If you're thinking about using AdSense to monetize your website, be sure you check out How to Make Money with Google AdSense. The guide will help you optimize your ads and boost revenue.
Contact Digital Shiksha to learn more about how to make money online through website monetization.